Thirteen Memorable Books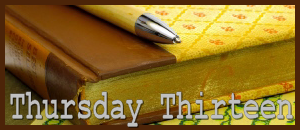 Last week I shared 13 ways that music impacts my life. Writers are passionate readers - we have to be, so here are 13 books that are the most memorable to me.
The Catcher in the Rye
This item is first on my list because I read this book in the sixth grade. I'll let you in on a little secret, some folks think I'm a little wierd or "unique" as they like to say. I've always been who I am and being "unique" as an adolescent is no easy stroll through the park. A teacher recommended that I read it. I did and I had my first epiphany. I've not read this book since then. I am sure it wouldn't have the same meaning for me now that it did when I was 12 or 13. It sits in my memory as one of the first books that had an impact on my life.


Fast forward to high school. Yes, another easy going period in your life when your peers are understanding and supportive. My mom pulled this book out of an old box in the garage and told me I'd probably like it. I read it and I loved it. This is the second book that had an impact on my life. I read it several times during my high school years. I've not read it since then and I probably won't ever read it again. But, it also sits on a tidy shelf in my mind and will always be remembered as something that helped me get through high school.
Now then, I am afraid that is going to be the end of the "literature" section of my list. I don't like chick lit and I don't much care for "the greats", please don't get me started on Hemingway.
This book was originally released in 1983; I read it probably in 84 or 85. I loved this book! I remember coming home from school and sitting down to just enjoy it. Really, how many books can you remember reading when you were 8? I think I should get a copy for my daughter.
In high school we were going on our annual long drive to see family. My mom borrowed a bunch of library books that we could read in the car. She started by reading Phantoms outloud. I immediately got hooked and at the first opportunity snatched it away and read it - really, she was reading far too slowly. Dean Koontz is one of my favorite authors. Phantoms is one of my favorites because it was my first introduction to him.
Watchers
Phantoms may have been my first... but, Watchers is my love. I have had my copy of Watchers for soooo long. I probably read it at least 3 or 4 times each year. My copy has pages that are stained with chocolate, water spots and my back cover is torn. My husband keeps trying to throw it away. He says I can buy a new copy. I just can't bear the thought of parting with it. I will buy a new copy soon because the pages are starting to turn odd shades of yellow and brown - but, I don't know if I'll be able to just *throw* it away.
I can't tell you how excited I was when I first saw this book. I was in an airport and it was a new book, by new authors and it TOTALLY sounded like it was just my kind of novel. I immediately called my mom - yes, I was standing in the middle of the airport on the phone to call my mother and tell her about the new book I had just found. She immediately knew what I was talking about because she had seen it that same day and bought it! I devoured it and hungered for more. I love every single book by Preston and Child and in fact, they are the ones who ultimately gave me that final bit of inspiration to begin writing seriously. The first moment I read of Pendergast I knew I would see him again and I have not been disappointed.
I love this one too! It's one I read over and over again. This book only reinforced my desire to write my own novel.
By now, you can probably tell there is something in common with these books. Well, Rollins was another example where I was in the bookstore and found a paperback by an author I hadn't heard of before and his first book just sounded fantastic. Subterranean is one of my favorites.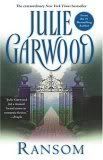 I love historical romance. I freely admit it. I have just as many romance novels on my shelf as I have action, adventure, and mystery. There is something about this book that just makes me feel happy. When I'm down or when I'm feeling a little sad, I can pull this book out, sit back and read. When I'm done - I feel better. The plot. The characters. It's all good.
This is the first Christine Feehan novel that I purchased. I read it and the next day went back to the bookstore and purchased every book they had in stock with the author's name. My mother came to visit shortly after and I told her that I had a new author that she hadn't heard of but she had to read. I had my mom hooked that night and the stinker took all my books to finish reading at home. I await each new release with anticipation.
Harry Potter
Any memorable book list wouldn't be complete without Harry Potter. I remember when I first picked up my copy. I was at the bookstore and saw this children's book on a shelf. I hadn't heard of it before and I read the inside cover. I picked it up thinking I'd send it to my husband's godchild. When I got home I figured I should read it first to make sure it was appropriate for her age. Needless to say, I was hooked and it never left my hands. Yes, I am one of those people at the bookstore at midnight to get my copy.
Dragon Lance
My dad actually had these books when I was younger and I "borrowed" them from him. I will always remember Tasselhoff more than the others! My first real obsession with DnD began with the Dragon Lance series with Weis and Hickman.
Belgariad
I love this series and the Malloreon. I've read these two series so many times that I couldn't even count.
Well, this is long enough and these are the top books that are the most memorable to me.
Don't forget to check out the
contest
I'm co-hosting with
West of Mars
.
Labels: Authors, books, Thursday Thirteen, Writers