My ball wonders... how bout yours?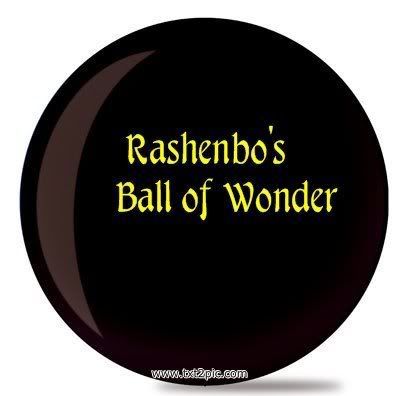 "Oh great and powerful Ball of Wonder,
what will happen in 2007?"
"Foolish blogger, only the worthy
can know my secrets. However,
I will share with you the top 5
predictions for 2007."
1. Judith Regan will announce the creation of her own publishing company. Celebrities will flock to her editors to push their own life story. We will see items like, "If I Did It" by O.J. "The Cruise" Tom Cruise's biography of his love life and phantom child. "The Publishing Mistress" by Judith Regan. "Drunk Politics" by a ghost writer on the presidential campaign and more!!!
2. Someone will buy the
Holy Toast maker
and
they will try and sell their "special" toast on Ebay.
3. Agents Who Blog for Dummies will be released to the public. All aspiring novelists in search of literary agents MUST purchase one.
4.
The Google Blog Bombers
, as reported by
Barbara Bauer
in her infamous
podcast
, are offficially making their presence known in the blogosphere. In 2007 they will activate their coalition and work with one goal - complete and total BLOGOSPHERE DOMINATION! *que music* Muhahahah
5.
Miss Snark
will don her hero garb and personally stomp the 'creativity' out of a flock of writing nitwits in an attempt weed out the population of blathering idiots. Armed only with her flashing stilettos, glass of gin and fluffy poodle - she will take the crapometer to the next level and embark on the crapfest... further details are only for the worthy.
Get fortune to guide you into 2007!
Your Fortune Is
Man who live in glass house should change clothes in basement.
Labels: Blogging, Blogging Predictions, Contests and Promotion, General Writing, ProBlogger