De-Lurk Week!
I jumped from
A Spot of T
over to
Paper Napkin
.... this week is De-Lurk week. If you comment, the comment fairy will sprinkle you with magic blog dust... or something :) So, if you hit a blog today. Leave a comment, even if it's just "Hi"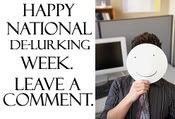 Also, some sites of interest for the writerly types. A new agent has a blog.
Agent in the Middle
And,
Miss Snark
mentioned this
contest at Gather
on her blog today. I think I'll join the group just so I can read the entries and be entertained.
There's also a group writing project over at
Middle Zone Musings
. Be sure to check it out!
Labels: Agents, Blogging, Contests and Promotion, Literary Agents, Sites of Interest